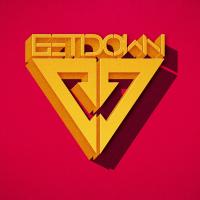 By DJ GETDOWN - France
GETDOWN PARCOURT LES CLUBS DEPUIS MAINTENANT 20 ANS.
IL EST L'UN DES RARES DJ'S FRANCAIS MIXANT À TRAVERS LE MONDE ENTIER.


ÊTRE RÉSIDENT PENDANT PLUS DE 2 ANS DANS DES CLUBS TEL QUE LE PACHA (NYC) OU L'AMNESIA (MIAMI),
LUI ONT PERMIS DE JOUER AUX COTÉS DE AXWELL, CHUCKIE, DAVID GUETTA.

FORTEMENT IMPREGNÉ PAR LE COURANT HIP HOP,
IL A SU SE DIVERSIFIER EN RÉALISANT DE NOMBREUX REMIXES ET BOOTLEGS PLAYLISTÉS PARDES CÉLÈBRES DJ'S
ET CLASSÉS REGULIÈREMENT DANS LES MEILLEURES VENTES.

GETDOWN MULTIPLIE SES ACTIVITÉS: FORMATEUR À L'UCPA DJ SCHOOL, CHRONIQUEUR SUR SONOMAG, AMBASSADEUR POUR PIONEER DJ
ET UDG LORS DES SALONS INTERNATIONAUX.

LA SORTIE DE SES SINGLES "FUTURISTIC SUPER HEROES", "LET ME RIDE" ET "ALL MY PEOPLE SAY"
ANNONCE UN ALBUM TRÉS DIVERSIFIÉ, QUI CORRESPOND A SON STYLE MUSICAL ATYPIQUE!

JOACHIM GARRAUD A SÉLÉCTIONNÉ LE "SCANDALE GETDOWN REMIX"
POUR FIGURER SUR SON ALBUM QUI SORTIRA EN JANVIER.


GETDOWN DOIT SA NOTORIÉTÉ GRÂCE À SON EXPÉRIENCE ET À LA VIRTUOSITÉ DE SES SETS.
C'EST UN ARTISTE PAS COMME LES AUTRES, QUI TRANSMORME LE DANCEFLOOR EN CHEF D'OEUVRE!

WWW.DJGETDOWN.COM
facebook.com/djgetdown
twitter.com/djgetdown
crooklynclan.net/DJGETDOWN
youtube.com/djgetdown


________________________________________________________________________

GETDOWN has been spinning on turntables
for more than 20 YEARS.
He is one of the rare Djs mixing world wide.

His whole life he's been influenced by HIP HOP.
He knows how to diversify himself by making thousands
remixes and mashups ALREADY PLAYLISTED
by famous DJ's such as Chukie and Afrojack.
Every release on legal sites,
GETDOWN has placed has gone TOP FIVE.

GETDOWN was a RESIDENT DJ for 2 consecutive years
at PACHA NYC and AMNESIA MIAMI.
This gave him a chance to play along with Benny Benassi,
Martin Solveig, Axwell, and David Guetta.
He got his NOTORIETY due to his rigor, his experience and
VIRTUOSITY. His SETS are always EXPLOSIVE.

Passionate by music, GETDOWN is also been a COLUMNIST
at SONO Magazine for eleven years,
a TEACHER at the biggest dj school in FRANCE
and an ambassador of PIONEER and UDG
during all international exhibitions.

GETDOWN is an artist
and the dance floor is his Masterpiece.
November 24, 2015 at 10:11am
October 30, 2015 at 9:10am
September 26, 2015 at 10:09am
September 4, 2015 at 8:09am