Help Center / Compression guidelines
With these tips, you can optimize your files for upload on Djpod without affecting audio and / or video quality of your original file.
Audio
The best choice

Codec: AAC (Advanced Audio Coding)

The AAC codec provides better quality / bitrate ratio than MP3, which means that for the same file size, the sound will be better with the AAC codec than with the MP3 codec.

Bitrate: 256 kbps

An AAC file encoded at 128 kbps is equivalent to an MP3 file encoded at 192 kbps. If you want to reach the quality of an MP3 320 kbps, a bit rate of 256 is enough with AAC.

The other choice

Codec: MP3 (MPEG-1/2 Audio Layer 3)

Historically the most used of audio codecs, MP3 codec requires a high-speed (bitrate) to keep a good quality of sound.

Bitrate: 320 kbps

Many users encode at 128 kbps. But at this rate, an auditor with a good audio system will be aware of the sound compression. At 320 kbps, the quality is close to the original uncompressed file.
Video
The best choice

Codec: H.264

Codec developed under MPEG, H.264 is also known as AVC (Advanced Video Coding) and currently offers the best video compression without loss of quality.

Frame rate: 24 fps

Note that it is preferable to keep the frame rate at which you shoot.

Resolution: 640px or 1280px wide (HD)

For a low-resolution video, the most popular formats are 640x480 (4:3) and 640x360 (16:9). For HD video, 1280x720 (16:9) is the most common format.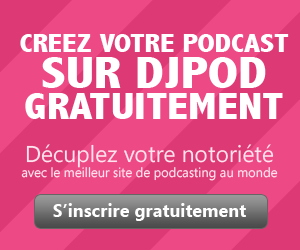 Need help?
If you have a problem or need help with the use of this page, look the
Help Center
or the
Djpod FAQ
.