Help Center / Djpod services status
All information on scheduled maintenance, technical interventions and unscheduled outages of Djpod services are posted on this page.
Network slowdown

There are currently slowdowns on our network, our technical team is in action.

Site update

We are working on technical updates on Djpod which may affect its proper functioning for a few minutes.

Site update

We are working on technical updates on Djpod which may affect its proper functioning for a few minutes.

Access to statistics disturbed

Our team operates on the statistical system, this may cause intermittent problems of access to their consultation.

Chaptering issue

Episodes chaptered between Monday, September 1 and Tuesday, Sept. 2 included were victim of a bug and should be uploaded again to be listened properly. We apologize for the inconvenience.

Server problem

One of our servers had a technical failure, forcing us to go to datacenter and reinstall the operating system of the server. No data was lost during this incident, but if you encounter a bug on the site following the intervention, do not hesitate to let us know.

Podcasts deletion on iTunes

Spinnin' Records has conducted a piracy hunting last days, and many podcasts have been removed from the iTunes Store. We are currently in contact with the label for more information, and will try to reactivate the podcasts in iTunes as soon as possible.

Maintenance on real-time statistics

Friday, October 4 at 11am

Our technicians make improvements on the real time statistics module, it can no longer display data intermittently.

Friday, October 4 at 2pm

Maintenance over, stats are fully online.

Upload unavailable

Monday, September 9 at 8:00 am

We are currently working on the upload module. p>

Monday, September 9 at 12:00

Upload is back, chaptering tool is temporarily unavailable.

Tuesday, September 10 at 9:00 am

Chaptering tool is now available.

Enhance server failure

Monday, August 26 at 6:30pm

The enhance server is currently experiencing a technical problem, any episode that would be on the waiting list to be chaptered will not be processed for several hours. We recommend that you do not create chapters with the Djpod tool until the problem is not resolved.

Tuesday, August 27 at 8:30am

The server is running again, it now treats awaiting episodes in order of arrival.

Enhance server maintenance

Thursday 15th August, 9am

We are going to change our enhance server.

This feature will be unavailable for a few hours.

Thursday 15th August, 1:50pm

The server has been successfully installed, all enhance features are back online.

Mobile app breakdown

Wednesday 14th August, 3:15pm

Our team is currently making changes on the mobile application. It will be available again in a few moments, thank you for your patience.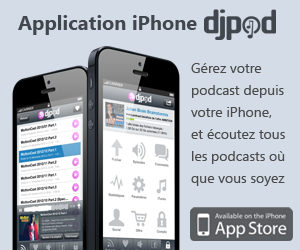 Need help?
If you have a problem or need help with the use of this page, look the
Help Center
or the
Djpod FAQ
.