Djpod podcast directory, that's thousands of exclusive sources of music.

Updated on April 15, 2019 at 3:04pm - 4 episodes
"The YouTube Podcast" All Flat Earths Mark Sargent, Samuel Shenton, Ellis Hillman, Charles K. Johnson, Eugenie Scott, Thomas Dolby, Kay Burns, Richard A. Lupoff, Brett Gurewitz, Terry Pratchett, Rapper B.o.B Richard Jefferson and...

Updated on August 22, 2016 at 3:08pm - 68 episodes
Every other week, Joanna Rays selects several tracks among her favourites. This selection is mixed by different DJs and broadcast on more than 20 web and FM radios in France and abroad, among which Vitamine (fr), Mortal FM (Spain), Up...
> Music
Podcasts Categories
Music / 3611 podcasts
News / 25 podcasts
Sports / 8 podcasts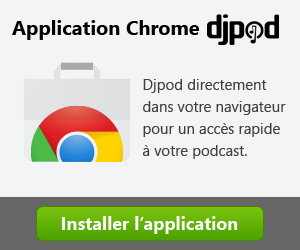 Need help?
If you have a problem or need help with the use of this page, look the
Help Center
or the
Djpod FAQ
.