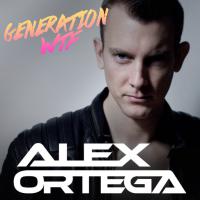 By ALEX ORTEGA - MIAMI, United States
ALEX ORTEGA also known by his alter ego name AGETRO started his career in Paris in 2001 at the famous "Mixer Bar" in the BASTILLE area.
Largely influenced by the sound of house music from a young age, his DJ sets are characterized by hard-hitting electro house and a fine house progressive.

In 2004, he participated to the Fun DJ Tour, a tour of French beaches managed by the french radio station Fun Radio.

In 2007, Alex played at the world famous "Queen Club Paris" located on the Champs Elysées, which was a turning point in his career. In addition, he has been playing in all of the most renowned clubs in Paris like the Redlight, Duplex, Bus Palladium, Chez Régine… and more. He extended his mix all over France.

Alex also created the podcast "Generation WTF" which is available for free download every month.

In September 2012, Alex decided to move to NYC to get a taste of the American club scene.
He has played in famous New York clubs like LAVO, MARQUEE, HIGHLINE BALLROOM, VIP ROOM, PH-D, HAUS... He also play in Miami during the Winter Music Conference.

In September 2013, Alex Ortega became resident DJ of a weekly radio show on « Radio FG USA » and on the french radio station « Paris One Club ».
January 2014, Alex became the resident DJ of French Tuesdays NYC and in April resident every Saturday at Fig & Olive NYC in the Meatpacking.
Summer 2014, he played every Friday at the pool party of Dream Downtown and front of more than 4800 people for the 4th edition of Diner en Blanc in Battery Park.

January 2015, Alex Ortega became ambassador for DJ Pod in the USA.

September 2015, Alex moved to Miami...
Sticky episode
December 1, 2015 at 10:16am
October 5, 2015 at 1:25pm