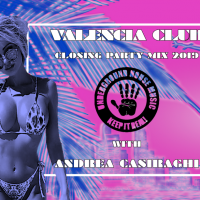 By Andrea Casiraghi - Dinant, Belgium
Andrea Casiraghi, born in Novara, Italy, DJ, producer, constantly evolving musical, always looking for new ideas and new goals, always looking for new paths.
Eclectic, creative, curious, endearing, with a unique style, it transmits passion and adrenaline, makes you dream.

Techno Minimal is his sound but his House roots are perceived.

He is the founder of TMW EVENT and the Pentagramma Records label.

He has produced music for record labels such as Basic Avenue Records, Uledam Records and Pentagramma Records.

In 2016, he created The Underground Web Radio with about 40 DJs and producers, not completely satisfied, closes the radio and prepares for the end of the year 2018 a WEB TV only dedicated to the Eletronic music.

He has already played in:
Spain in Madrid and Valencia, Germany, Holland, France, Belgium, Italy, now it is also part of an Italian agency that they plan a tour from September 2018 throughout Italy and abroad.