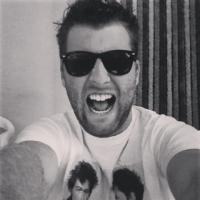 By MZ - France
Élevé aux riffs puissants des rockers d'AC/DC , secoué par l'énergie punk des Sex Pistols , je suis un fan de Rock dans sa grande diversité.

Je possède de nombreux 33T de Queen, System of a Down en passant par Trust , Manson , les Red Hot , Television , Sid Vicious , Elvis , Rolling Stones , Status Quo , Bérurier Noir , Rammstein ...
Autant d'artistes et d'albums variés qui m'ont permis de m'ouvrir musicalement et d'apprécier la musique dans sa globalité

Je vous propose à travers cette série de Podcasts de partager mes coups de cœurs mensuel mais aussi des rétrospectives à thèmes.

Retrouvez moi également sur mon Instagram pour échanger sur l'actualité musicale et partager ma passion pour les vinyles.

Ready to rock ?
Sticky episode
October 16, 2019 at 9:00am
September 17, 2019 at 5:30pm