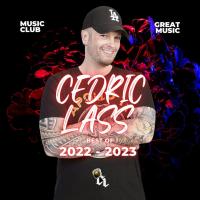 By Cédric Lass - Paris, France
1 FREE EDM MIX EVERY MONDAY !
☆ Check out Cédric Lass artist pages here => https://linktr.ee/cedriclass

☆ Only the best & latest FUTURE RAVE, EDM, MASHUPS, TECHNO, TRANCE & HARDSTYLE tracks mixed by Cédric Lass for FREE ☆ Thanks for your support, much appreciated ☆

Welcome to the ultimate EDM extravaganza!
In this high-octane podcast, we bring you an electrifying mix featuring the best and latest in EDM, Originals, Remixes, Bootlegs, Mashups, Tech House, Techno, Trance, and Hardstyle tracks. Get ready to be blown away as we take you on a sonic journey through the pulsating beats and euphoric melodies of the moment.

What sets this podcast apart is the inclusion of the host's own releases, adding a unique touch to the mix. With their signature sound and innovative production skills, these original tracks seamlessly blend with the hottest tunes in the EDM universe. Prepare yourself for a listening experience like no other as you immerse yourself in the cutting-edge sounds curated exclusively for your pleasure.

But that's not all! We believe in the power of free music, which is why we offer the mix as a complimentary MP3 download. Share it with your friends, blast it at parties, and let the infectious energy spread far and wide. As you groove to the beats, don't forget to subscribe to our page to stay updated on future episodes and releases.

If you're a true fan and want to show your support, we encourage you to click on the link in our bio. By doing so, you'll be directly supporting the host's work, their releases, and connecting with their social networks. It's a win-win situation, allowing you to enjoy the music you love while contributing to the artist's creative journey.

So sit back, relax, and let the music transport you to a world of pure EDM ecstasy. This podcast is your one-stop destination for the hottest tracks, mind-blowing remixes, and boundary-pushing originals. Get ready to elevate your EDM experience to new heights. Let's dive into the beats together!
Sticky episode
September 19, 2023 at 1:42am
December 11, 2023 at 12:25am
December 4, 2023 at 2:13am
November 27, 2023 at 12:25am
November 20, 2023 at 12:25am