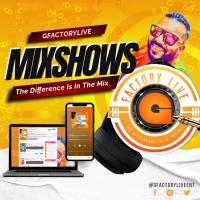 By GfactoryLive - Toronto, Canada
Welcome to GfactoryLiveEnt
This is a podcast with a difference with a WIDE Appeal of Musical genres Upload mixes

EXCLUSIVELY you can get the MIXTURES MIX PODCAST & #THEGMIXLIVE,right here .
Take this podcast with you anywhere.
URBAN | MAINSTREAM | CARIBBEAN

MUSIC IS LIFE!!!

Follow on all social medias @gfactoryliveent

Turn It Up And Lock It In..