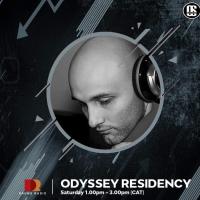 Par Soulface - Nîmes, France
Born in the south of France in the early 80's, Soulface grew up listening to bands like Kool & The Gang , Earth Wind & Fire , Kashif. It is in 1997 that groups like "Daft Punk , Cassius , Demon" caught his attention.

his love for House, Deep & Soulful House, Afro House, Afro Deep, RnB, Néo Soul & G-Funk naturally led him to artists/record labels like: Solid Ground Danny Clark, Sole Channel , Real Tone , The Djoon Experience , Reel People Records , King Street Records , And More............

In 2007, he joined BlackBeam Records, a crew from Montpellier, founded by "Kemko". A year later he started building a home studio. In 2009, and he joined the group Puissance5 as a reviewer and resident Dj. Using websites and tools such as Mix.Dj and Itunes, he also started the "Soulface In The House" Podcast. He then got introduced to famous Web Radio Paris One Deeper

He just recently got his own show on Beatwinus Radio (Paris) & radio show "Keeping The Vibe Alive" from Nemo aka Pashaa (artist signed under the label Strictly Rhythm)

February 2013 he joined the radio Maxximixx Housefloor leader in music Clubbing in Israel Sunday 10PM - 11PM (France GMT+1) & Thursday 9PM - 10PM (France GMT+1)
---------------------
2014: Monocles feat Precious Maleho - Louder (Soulface Remix) Skalla Records.

2015: Soulface - Motherland (Afro Galactic Dub Mix) Africa To The World Vol3 (Kanzen Records).

2016: Mr VinK & Magnet Matthews feat Zinitta - Waters Still (Soulface Remix) Ancestral Recordings.

2016: Nick Rowze - Wellness (Soulface Afrotech Remix) You're Next Records

2016: Arnaud D feat Rescue Poetix - Mantra (Soulface Remix) MoBlack

the show is on now...