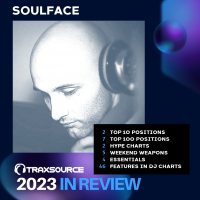 By Soulface - Nîmes, France
Soulface is a French DJ and producer who has a passion for various music genres such as House, Deep & Soulful House, Afro House, Afro Deep, RnB, Néo Soul & G-Funk. He was influenced by bands like Kool & The Gang and Earth Wind & Fire and in 1997, he was drawn to groups like Daft Punk, Cassius, and Demon.

He joined BlackBeam Records in 2007, a Montpellier-based crew founded by Kemko, and then became a reviewer and resident DJ for Puissance5 in 2009. In the same year, he started the "Soulface In The House" podcast and was introduced to the famous web radio Paris One Deeper. In 2011 and 2012, he participated in the Soulful Meeting at Six Fours Les Plages alongside other notable artists.

Recently, Soulface started his own show on Beatwinus Radio in Paris and joined Nemo aka Pashaa's radio show "Keeping The Vibe Alive" on the label Strictly Rhythm. In February 2013, he joined the radio Maxximixx Housefloor, and in 2016, he participated in the ADE event in Amsterdam with Moblack Records. In 2018, he became part of the Odyssey Residency on the radio show of South African duo Neuvikal Soule & Dj Mreja on Drums Radio.

Soulface has been signed to various record labels, including Moblack Records (Italy), Vibe Boutique Records (New York), Merecumbe Records (New York), Funkhut (Baltimore), Makin Moves (London), Deep Soul Space (Greece), Blu Lace (South Africa), Kanzen Records (South Africa), Skalla Records (South Africa), Ancestral Recordings (South Africa), and Muzitanium (South Africa).