Djpod podcast directory, that's thousands of exclusive sources of music.
Updated on June 16, 2021 at 7:06pm - 122 episodes
L'émission Cinéma et séries proposée 2 fois par mois presque-en-direct du studio Barouf' de Juvisy, présenté par DaviD et notre équipe de chroniqueurs, Laura, Célia, Laura, Kévin, Léo, David et Gabriel
Updated on June 4, 2021 at 3:06pm - 5 episodes
La Brocante Du Rire est une émission hebdomadaire diffusée sur la radio web "radio-wepassion.com" depuis le département du Loiret (France). L'émission est construite autour de thématiques de saison, sans oublier l'actualité qui est...
Podcasts Categories
Music / 3540 podcasts
News / 26 podcasts
Sports / 7 podcasts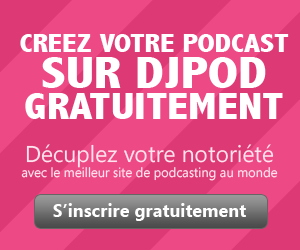 Need help?
If you have a problem or need help with the use of this page, look the
Help Center
or the
Djpod FAQ
.