Podcasts directory : Music / Rave
Djpod podcast directory, that's thousands of exclusive sources of music.

Updated on January 27, 2023 at 9:01pm - 643 episodes
Techno, Ambient, Electronica, Experimental, Electro-Pop, Dubstep, Post-Rock, Shoegaze,..... New stuff I like....Enjoy & Share....Click on Informations for albums & labels name... Main Adress : djpod.com/analog Also available on Apple...
> Music

Updated on January 17, 2023 at 9:01pm - 123 episodes
Jean Lostebien and Guestmix live turntable. "Mix-Tape" The news and Trance of the moment. And also revisiting the Trance Classixx... A culture become a passion ℗ & © 2023 Marzan Prod. 2 times a month ww.jeanlostebien.com /...
> Music
Podcasts Categories
Music / 3683 podcasts
News / 30 podcasts
Sports / 9 podcasts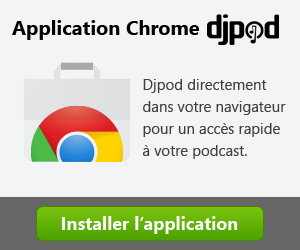 Need help?
If you have a problem or need help with the use of this page, look the
Help Center
or the
Djpod FAQ
.