Djpod podcast directory, that's thousands of exclusive sources of music.
Updated on July 7, 2020 at 11:07am - 1363 episodes
MFSB RADIO - Music Funk Soul & Boogie - 24/7 non stop!!!! Dj's: DJ NAIZDY - DJ TABU - FUNKY BARBARA - DJ TAREK - DJ MADAME GAULTIER
> Music

Updated on June 10, 2020 at 11:06pm - 66 episodes
Deejay depuis plus de 35 ans Son expérience du dancefloor, ainsi que ça culture musicale lui on permis de faire danser tous les styles de publiques. Il à ainsi participer à tous types de soirées en France et à l'étranger...
> Music

Updated on April 18, 2020 at 8:04pm - 45 episodes
HIP-HOP/R&B/FUNK/HOUSE Dj Joez mixe depuis plus de vingt ans dans les clubs, les bars et les soirées privées. Création de versions remixées par ces soins, Mégamix HIP-HOP/R&B/FUNK/HOUSE Participation à la LAKE-PARADE 2011 LE MIX,...
> Music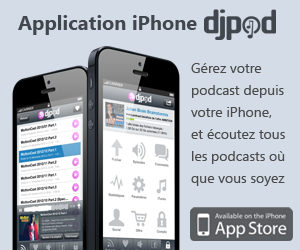 Need help?
If you have a problem or need help with the use of this page, look the
Help Center
or the
Djpod FAQ
.