Djpod podcast directory, that's thousands of exclusive sources of music.
Updated on January 12, 2020 at 4:01pm - 1339 episodes
Il n'existe pas de recette miracle pour réussir une soirée mais ce qui est certain, c'est qu'il faut avoir LE bon DJ aux commandes ! DJ TAREK FROM PARIS est un fervent de l'ancienne école, son attitude « simple et funky »...
> Music
Updated on December 6, 2019 at 7:12pm - 50 episodes
DJNINO VOUS PROPOSE DES REMIXES Bootleg Extended INEDIT & DES VERSIONS INTROMIX POUR TOUT LES STYLES : // RN'B // FUNK // HIP-HOP // MOOMBATHON RAGGA // DANCEHALL // RAP FRANCAIS // REGGAETON // KIZOMBA // SEMBA// SAMBA// KUDURU// ...
> Music

Updated on September 3, 2017 at 6:09pm - 44 episodes
HIP-HOP/R&B/FUNK/HOUSE Dj Joez mixe depuis plus de vingt ans dans les clubs, les bars et les soirées privées. Création de versions remixées par ces soins, Mégamix HIP-HOP/R&B/FUNK/HOUSE Participation à la LAKE-PARADE 2011 LE MIX,...
> Music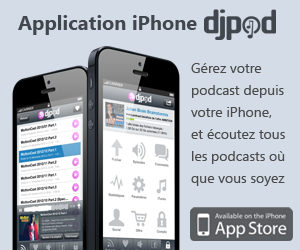 Need help?
If you have a problem or need help with the use of this page, look the
Help Center
or the
Djpod FAQ
.