Djpod podcast directory, that's thousands of exclusive sources of music.
Updated on October 6, 2016 at 4:10am - 1 episodes
C'est une interview unique qui donne la résolution de la formule de dieu par l'inconscient de l'homme. Une démarche originale qui donnera la paix et la coopération entre les peuples.
> Society
Updated on March 11, 2016 at 12:03pm - 25 episodes
Le 20 janvier 2016, vous étiez plus de 900 à nous avoir rejoint pour décrypter, comprendre, échanger et analyser ce que seront les 4 grandes tendances en termes d'innovation en 2016 : L'homme, le robot, la ville et le réseau....
> Society
Podcasts Categories
Music / 7484 podcasts
News / 64 podcasts
Sports / 19 podcasts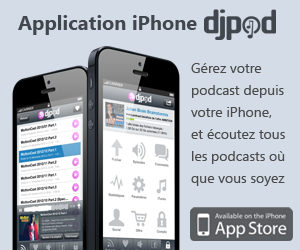 Need help?
If you have a problem or need help with the use of this page, look the
Help Center
or the
Djpod FAQ
.