Djpod podcast directory, that's thousands of exclusive sources of music.

Updated on March 12, 2023 at 5:03pm - 329 episodes
RadioDelta, webradio concentré sur les sujets maçonniques ou proches, ou non, pourvu qu'ils nous passionnent :) Quelques unes des émissions : - 1,2,3, Soleil ! : en direct live - dernier vendredi du mois, 20 heures. - Les Pierres...
Updated on June 7, 2022 at 10:06pm - 2 episodes
Ce Podcast vous propose de partager une trajectoire, un cheminement de développement personnel et, finalement spirituel. A partir de mon expérience, je souhaite partager mon chemin et les réflexions qu'il m'a inspiré, ainsi que les...
> Culture

Updated on January 13, 2020 at 7:01pm - 1 episodes
Le podcast des disparitions mystérieuses. Pour écouter les nouveaux et anciens épisodes, vous devez vous RÉABONNER soit via iTunes, soit avec le NOUVEAU FLUX RSS : https://lionel-camy-talk.lepodcast.fr/rss Vous pouvez aussi aller...
> Society
Podcasts Categories
Music / 3708 podcasts
News / 30 podcasts
Sports / 9 podcasts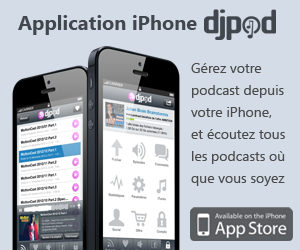 Need help?
If you have a problem or need help with the use of this page, look the
Help Center
or the
Djpod FAQ
.