Djpod podcast directory, that's thousands of exclusive sources of music.

Updated on January 19, 2022 at 1:01pm - 1726 episodes
Le Grand Changement - Informez vous et préparez vous au plus grand changement que l'humanité n'ait jamais connu… L'évolution de la conscience humaine accélère pour tendre vers ce que l'on appelle "Le Grand Changement"....

Updated on January 19, 2022 at 2:01am - 100 episodes
From Delaware ... almost live! This is the show where host Earl Holland interviews guests about their connection with sports, journalism, pop culture and more. Set your coordinates and lock in your location for your sports escape.
> Sports
Updated on November 7, 2021 at 9:11pm - 10 episodes
Michael Jackson Is an American singer, songwriter and dancer. Dubbed the "King of Pop", he is regarded as one of the most significant cultural figures of the 20th century. Over a four-decade career, his contributions to music, dance and...
> Music
Podcasts Categories
Music / 3567 podcasts
News / 26 podcasts
Sports / 8 podcasts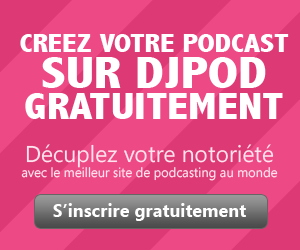 Need help?
If you have a problem or need help with the use of this page, look the
Help Center
or the
Djpod FAQ
.